Important Patient Notice
8/11/2021
3rd dose booster shots for Covid-19
Please book your 3rd dose via the appointment button on the main page or go to the Hot Doc app.
3rd dose of COVID-19 vaccine is currently for individuals who are severely immunocompromised with a condition and or it has been 6 months or more since your 2nd Covid vaccination.
Once you have your 3rd dose your vaccination certificate will remove your 1st dose recorded and replace it with the 2 latest shots. This is something the Australian Immunisations Register is aware of.
8/11/2021
How to access your Covid Vaccine Certificate
We can provide you with a Covid Vaccine Immunisations Statement if you were vaccinated with us, however is not an Official Government Document and you will still need your official Covid certificate issued by the Government.
See the links below with information on how to access your official Covid vaccine certificate.
https://www.digitalhealth.gov.au/mhr-proof-of-vaccinations
https://www.servicesaustralia.gov.au/individuals/subjects/getting-help-during-coronavirus-covid-19/covid-19-vaccinations/how-get-proof
You can also call the Australian Immunisation Register and they can post you out a copy of your certificate.
As of 18/10/2021
Dr Huw Thomas and Dr Rowena Giard are currently the only 2 doctors who are taking on new patients. Please check back as this often changes.
As of  23/9/2021
Under the current situation that NSW is facing with Covid-19, we are encouraging our patients to come in and get vaccinated.
Pfizer bookings now available. Bookings are available online only.
Due to the high demand for vaccinations we are unfortunately only taking bookings for Covid vaccination for our existing patients
Remember to wear your mask and keep social distancing even if you are vaccinated. If you are worried about receiving the vaccination feel free to book in to have a chat to your doctor to ask questions for your specific situation. Keep safe everyone.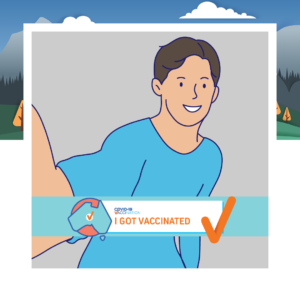 You can now call the practice now to book a flu shot appointment, they are $15 per shot. Note you can not have your Covid vaccine 7 days prior or after your flu shot. There needs to be a 7 day gap.
 Covid Vaccine eligibility checker
Medicare has reduced the funding for Telehealth consultations . Unfortunately Telehealth consultations will incur a fee that is partially refunded by Medicare. After your consultation you will be transferred to reception and they will take payment over the phone. A phone consultation  is $70.00 with a rebate of $39.10 from Medicare.
Live Life Get Active is a registered health promotion charity focused on health, fitness and wellness. Sydney North Health Network is pleased to be able to offer 3 months of free online access to their health and wellbeing program to those who live or work in the Northern Sydney region.
Please ring reception prior to your appointment if you have a fever or flu-like symptoms like a cough, sore throat or difficulty breathing, or had close contact with someone diagnosed with or suspected of having corona virus in the 14 days before getting sick.
If you have respiratory symptoms, when you come for your appointment stay outside or in your car and call the reception 9997 3911 let them know you are here. We have a great set up where our doctors can see you out on our outdoor private clinic if you have any respiratory symptoms after a Covid negative test.
We have a new receptionist call Mai, she has recently joined us and she is being trained as a medical receptionist. Please say hi when you meet her!
Did you know that Doctor Rowena Giard performs cosmetics at Pittwater Family Practice. See the Cosmetics page for more details or ring the practice.
Did you know that you can now book your appointments with us online? Here's a quick video to show you how it all works:
You can download the HotDoc app simply by clicking on the following link: https://goo.gl/xMTyvH
Vaccinations
Do you know when your last Tetanus vaccine was?
Did you know that if you are aged between 70 and 79 years of age, you may be eligible for a free vaccine to prevent shingles?
If you are over 65 years of age, have you had your Pneumococcal vaccine?
Do you feel you or any family members missed vaccines at school?
The NSW government has recently provided funding for anyone under 20 years of age to "catch up" any vaccination they may have missed from the NSW childhood immunisations schedule.
Please chat to your doctor at your next consultation to ensure you are protected.